Linzi Ashton murder: Michael Cope jailed for killing ex-girlfriend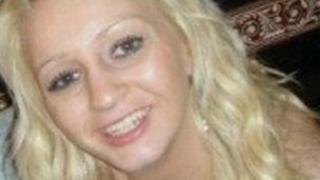 A man has been jailed for 27 years for murdering his former girlfriend in a "prolonged, extremely violent and determined attack".
Michael Cope, 28, of no fixed abode, beat and strangled Linzi Ashton, 25, at her home in Salford in June last year.
At Manchester Crown Court, he pleaded guilty to assaulting Ms Ashton in the weeks before he killed her.
The court heard he had previously tried to strangle two partners and was on the run for five weeks after her murder.
'Brutally beaten'
Sentencing, Mr Justice Kenneth Parker told Cope: "There's no doubt you set out most deliberately and in a callous manner to kill your victim.
"This was a savage and sustained attack on a defenceless woman in her own home.
"The injuries that were caused...were truly horrific and it is difficult to imagine the suffering, mental and physical, she must have endured as you brutally beat her to death.
"You violently took the life of a young mother."
Ms Ashton suffered 108 injuries to her head and body, the court was told.
Kate Blackwell QC, prosecuting, said she had been punched, kicked, stamped on, cut with a blade, beaten with a metal pole and strangled with a cable tie.
'I'm going to kill you'
Jurors heard that after killing her, Cope acted in a "clear and coherent manner" as he tried to clean the murder scene.
Greater Manchester Police (GMP) previously revealed that Ms Ashton reported that Cope raped and assaulted her in April and again in May last year.
The judge ordered that the rape charge lies on file.
The court heard Cope had a history of violence that included stabbing his cousin, and had subjected Ms Ashton to "deliberate and sustained" domestic abuse.
The Independent Police Complaints Commission (IPCC) is investigating whether GMP took appropriate action over the mother-of-two's complaints against Cope in the months leading up to her death.
Ms Ashton had told police that during an earlier assault Cope told her: "I'm going to kill you. I'll gladly do time for you. I like prison."
'Terrible ordeal'
GMP said it "would be inappropriate to comment on the IPCC investigation", but added that the force is "continuing to learn lessons to better protect victims of domestic abuse".
Supt Wayne Miller said: "He [Cope] carried out a brutal murder and then left relatives to find her body. The level of violence was shocking, and nobody deserves such a fate.
"Linzi suffered a history of domestic abuse with Cope, who wanted to manipulate her and wanted to control her."
Philomena McMahon, Ms Ashton's mother, said: "We as a family are all extremely relieved that this terrible ordeal has finally come to an end.
"We can now start to get closure on the most traumatic year in all our lives".
She added: "We all miss Linzi terribly, nothing will ever replace her. She left behind two gorgeous girls who will always be reminded what a beautiful, wonderful, caring person she was".