Indonesia drug smuggler Andrea Waldeck jailed for 14 years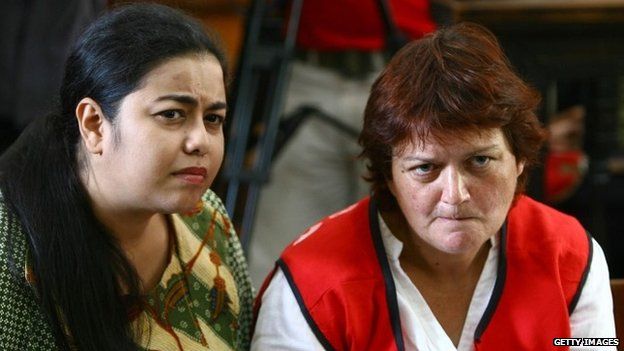 A British woman who smuggled 1.4kg (3lb) of crystal methamphetamine into Indonesia has been sentenced to 14 years in prison.
Former PCSO Andrea Waldeck, 43, from Gloucestershire, was found guilty of smuggling and also fined £100,000.
Her lawyer previously told the court she was "a victim" of a drugs gang.
Waldeck, who is originally from Talgarth in Powys, had faced a possible death sentence after being arrested at a hotel in East Java in April.
Last year, she told a court in Surabaya city that she had been coerced into carrying the drugs from China.
Police found the drugs hidden in her underwear in black bags, the court heard.
Indonesia has some of the toughest anti-drug laws in the world but death sentences are rarely carried out.
Following the verdict, Waldeck's lawyer Roberto Kaligis said: "As her lawyer I truly objected to the judges' decision.
"An Indonesian national who's connected to her case received a 10-year sentence last week. So we were hoping for the same sentence."
A decision is yet to be taken about whether the sentence will be appealed, he added.
The BBC's South East Asia producer, Alice Budisatrijo, said an appeal could be risky as the Indonesian justice system was quite unpredictable.
"In some cases, especially drug-related cases, the higher court gives a harsher sentence than the lower court, so they [Waldeck and lawyer] need to really think about what sort of evidence they can present if they decide to appeal," she said.
Ms Budisatrijo, who was in court for the sentencing, added it was unclear where Waldeck would serve her sentence.
"In general, the Indonesian prison is known for its overcrowding and poor sanitary conditions," Ms Budisatrijo said.
"Fights between inmates often take place and there is a shortage of prison guards to maintain order.
"There has also been reports of corrupt practices of prison guards taking bribes in exchange for better living conditions for the inmates.
"And so those who are able and willing to pay can often get a rather lavish facility, but for those who don't things can really get quite rough."
Gloucestershire Police confirmed Waldeck worked for them as a police support worker until February 2012.
The chairman of Up Hatherley Parish Council, near Cheltenham, said he submitted a witness statement to the Indonesian court last year.
"I wrote a witness statement in her defence last year about her work within the parish, most especially with young people," said Stuart Fowler.
"It would be good if she could serve it back in her own country.
"I don't believe that she is a criminal. When she worked in the parish, she was always industrious and keen - I certainly had no complaints."
Related Internet Links
The BBC is not responsible for the content of external sites.