Slavery 'worse' 10 years after Morecambe Bay tragedy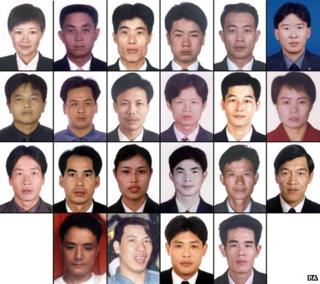 A decade ago 23 Chinese cockle pickers drowned when they were trapped by sweeping tides while working in Morecambe Bay, Lancashire. Yet, 10 years on, campaigners say workers are still being dangerously exploited in the UK.
The headlines from China were full of disbelief. "The Devil's beach," one newspaper cried.
That anger grew as it became clear how desperate the victims' lives had been.
Twenty-one bodies were recovered within hours, a woman's skull was washed up six years on and one man has never been found.
All were working illegally, picking cockles for hours on end to send money back to their families.
It was their gangmaster, however, and a wider web of criminals, that truly profited while paying scant regard to the cockle pickers' safety on the sands.
Mick Gradwell, the detective who led the investigation into the tragedy, said criminals were funnelling £1m per day to China by exploiting workers all around England.
"Tens of thousands of illegal Chinese workers were living in the country," he said. "Building up hidden communities and building a life below official recognition."
Li Hua was the only worker to be rescued on the night of 5 February, 2004. Now living under witness protection, he told BBC Inside Out of his "despair" before help arrived.
"It was pitch black and I was desperate," he said.
"I thought I might just as well wait to die. It was freezing cold but I didn't feel it. I was just numb… then, I don't know how, a wave maybe turned me round. I was on my own and then a helicopter came."
Gangmaster Lin Liang Ren would drive the workers to Morecambe from Liverpool and visit casinos while the men and women toiled through the night.
Mr Gradwell said while "significant sums" were pocketed by the gangmaster, the cockle pickers earned "a pittance".
The former detective superintendent, who is now retired, said: "The main reason 23 people died in Morecambe Bay on this particular night was because of poverty in the Fujian province of China.
"There is a constant threat and risk of people being abused like this and dying because they're being forced to work in dangerous conditions."
Lin Liang Ren was jailed for 14 years in 2006 after being found guilty of manslaughter and helping the cockle pickers break immigration laws.
The 23 deaths at Morecambe Bay highlighted the serious risks being taken by low-paid workers and the cavalier attitude of those supposedly responsible for them, but in Parliament efforts were already under way to tackle gangmasters.
Labour MP Jim Sheridan raised the matter with a private member's bill and legislation soon followed which saw the creation of the Gangmasters Licensing Authority (GLA) in 2006.
The organisation was set up to protect vulnerable workers in the shell fish, agriculture, food and food packaging labour markets but MPs and academics are campaigning for it to be given more powers.
Mr Sheridan wants to see its remit extended into industries including social care and construction.
"When the GLA was first introduced we were hopeful that it would be extended into other sectors but that's proven not to be the case," he said.
"That's the sad thing about it."
Research led by Durham University last year found evidence that the numbers of people trafficked for labour exploitation would soon exceed those brought to the country for sexual exploitation.
The report also called for the scope of the GLA to be widened.
Professor Gary Craig, who led the study, said there was a "real problem" getting people to acknowledge that "slavery exists in the UK" and warned there were "accidents waiting to happen".
"People tend to think that slavery is something to do with faraway countries with poor human rights records," he said.
"Well, actually, slavery is here and now in the UK and the research which I've done with colleagues suggests there may be upwards of 10,000 people at any one time in the UK in conditions which we would class as modern slavery."
The remit of the GLA, Prof Craig said, should be extended to include industries including "construction, hospitality and leisure and social care".
He added: "What's changed since Morecambe Bay? The problem has got worse and the resources directed to it are totally inadequate."
For its part, the GLA accepts exploitation exists in other industries and insists it could be more of an "effective deterrent" with extra resources.
Chief executive Paul Broadbent said it was making progress to ensure "exploitation in all its forms was eradicated and people can work for a good honest wage and get paid that wage".
In Westminster, Mr Sheridan has tabled an early day motion to mark 10 years from the tragedy.
He said: "If there's any fitting memorial to the poor people that died it would be that we can legislate or do our best to make sure no one dies in a similar situation."