Navitus Bay wind farm to move further from shoreline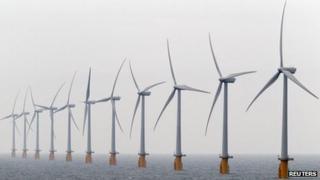 Developers of a £3.5bn wind farm off the south coast are to move the proposed site further from the shore.
The Navitus Bay wind farm would be located between Dorset and the Isle of Wight and would also be visible from the Hampshire coast.
Following consultation, the site will move up to 2.6 miles (3.8km) further from the coast with 24 fewer turbines.
Campaign group Challenge Navitus said the change was "marginal" and called for "a radical rethink" to proposals.
Developers previously announced a "significant reduction" of the wind farm in December 2012.
The latest change will see the northernmost part removed with the boundary covering an area of 60 sq miles (155 sq km) compared to 67.5 sq miles (175 sq km) previously proposed.
Bournemouth will be 13.3 miles (21.4km) away from the site and Lymington 16.9 miles (27.2km) away.
Distances from Swanage, Durlston Head and Weymouth will not change.
'Important contribution'
Navitus Bay project director Mike Unsworth said: "The boundary change is significant.
"It balances the need to reduce visual impact while ensuring it continues to make an important contribution to sustainable energy generation in the UK and to the local economy in the shape of jobs and investment."
But Andrew Findlay from Challenge Navitus said: "Threats to the environment, tourism, birds and navigation remain almost unchanged, and the onshore disruption will be the same.
"If a wind farm this size and so close to the coastline had been proposed at the outset, we would still have been strongly opposed to it.
"The turbines would be just as close to Swanage and the Jurassic coast World Heritage Site as before and the impacts on them are still significant."
Navitus Bay is expected to submit a planning application later this year.
Robert Syms, Conservative MP for Poole, welcomed "a move in the right direction" from Navitus Bay but said he hoped more change could be made ahead of formal plans.
"It's a strange process as, at this stage, you're consulting not on a definite plan but an outline proposal," he said.
"The number of turbines (194 compared to 218 originally proposed) is still large. Each will have to have lights on the top to alert aircraft and that will still have a strong visual impact."
Subject to planning permission, construction could start in 2017 with the first turbines generating energy by 2019.