Stormy weather disruption continues in South East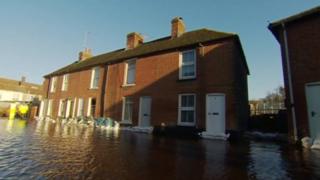 Rail passengers between London and Kent are facing fresh disruption because of a landslip caused by heavy rainfall.
Network Rail said services could not run from Swanley to Rochester following the collapse at Meopham.
Roads have also been shut near the River Nailbourne while emergency services help residents in Bridge and Patrixbourne affected by the flooding.
In Surrey, the River Thames has burst its banks at Chertsey, with homeowners warned to expect flooding.
Met Office warnings of wind and rain remained in place for the South East over the weekend but were revised from amber "be prepared" warnings to yellow "be aware" ones.
By Saturday afternoon, the Environment Agency had issued more than 30 flood warnings across Kent, Surrey and Sussex.
Out of those, about 20 were for the Surrey stretch of the River Thames, with another two for the River Wey.
Warnings also remained in place for three Kent rivers - the Beult, Medway and Stour.
Earlier, the Environment Agency warned the Thames was particularly at risk.
Canterbury City Council has handed out about 9,000 sandbags to businesses and residents in the district.
In a statement the council said: "The city council has placed sandbags in locations where they are needed. We have sophisticated monitoring systems and know where they are required and when to deploy them.
"If you're driving in areas near the Nailbourne, take extra safety precautions because flood water could be on the road around any corner. This is particularly important at night when you won't be able to see it."
In Surrey, Spelthorne council said the Environment Agency had warned that river and ground water levels would rise, with warnings in place for most of its stretch of the Thames.
"This could be as serious or even exceed the levels experienced in January. There is a real risk that properties may flood," it said.
Motorists were warned by the Highways Agency to take extra care over the weekend as fallen trees, debris and flooding could make driving conditions hazardous.
Adrian Brown, from East Sussex Fire and Rescue Service, said heavy winds were forecast for later on Saturday and crews were watching for roof damage and risks to high-sided vehicles.
Crews had rescued a family from a car who tried to drive through flood water in Barcombe on Friday, he said.
"Please don't try and drive through flood water," he said. "Once the car reaches a certain level, it will float."