Kent and Surrey flood danger as Thames warnings upgraded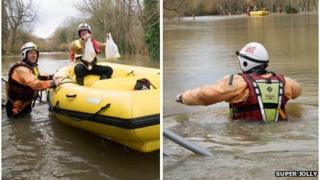 Severe flood warnings are in place on the Surrey stretch of the River Thames as water levels continue to rise.
Areas covered by the warnings, which are the Environment Agency's highest level of alert, include Staines, Egham and Chertsey.
The agency has also issued flood warnings for other major rivers including the Medway and Nailbourne in Kent.
Flood warnings for the Thames were upgraded to "severe" on Sunday.
Environment Agency spokesman David McKnight said it was a fast-changing situation.
'Take action now'
Many rivers feeding into the Thames were large tributaries, such as the River Wey in Surrey, and parts of those rivers had flood warnings as well, he added.
He urged communities to keep checking the Environment Agency website, which was being updated every 15 minutes.
Spelthorne Council tweeted: "Env. Agency have issued Severe Flood Warning from Runnymede Pleasure Gardens to Penton Hook. Take action now."
It said levels on the River Thames and the River Colne were expected to rise to at least 2003 levels, when the area was flooded, within the next 24 hours.
Parts of the Thames, including Chertsey, have been flooded since last month.
Local authorities and emergency teams across Kent and Surrey have been warning people not to enter flood water.
Kent firefighters rescued a man swept away in Canterbury in the early hours of Sunday and also helped two people from a car which was in 4ft (1.2m) of water on Saturday.
Another man in his 90s was rescued from his vehicle which was stuck in flood water in Hawkhurst on Sunday.
Kent Fire and Rescue Service (KFRS) warned people not to enter water after firefighters pumping out Patrixbourne saw several people trying to enter flooded areas.
Fire Service spokesman Liam Hudson said: "Flooding may look innocent enough but fast-flowing water that is just 6in (15cm) deep can be enough to knock an adult off their feet and it can conceal many hazards such as drains and sinkholes. We would urge people to stay out of floodwater, however shallow."