Man gives girlfriend 240-page book of text messages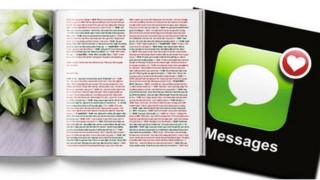 A man has published a book for his girlfriend which includes every text message they sent each other in the first two years of their relationship.
Antony Last, 31, spent 15 months collating the 240 page book, which also includes photos and ticket stubs.
He said his girlfriend, Kathryn, who shares a house with him in London, had "tears of joy" when she received the book featuring 90,000 words of texts.
"It was quite overwhelming," he said. "Every single text is in there."
Mr Last, originally from Peterborough, met Kathryn, 32, during a night out in London in January 2010.
'Brunch and breakfast'
The book, titled Messages, details the first text message he sent, "Hey you. How was brunch ;)" and continues to the day before they moved in together in August 2012.
"I have breakfast too," is the final entry, sent to Mr Last.
"It's a brilliant bookend," he said. "Brunch and breakfast."
He said none of the texts had been removed or edited and described the book as a "no holds barred" record of their relationship.
"Surprisingly there's nothing particularly racy, which is probably a bit disappointing," he said.
"It shows her spelling is a lot worse than mine, she hates autocorrect. There's a great one where she offers to make dinner including toothache, when she meant Yorkshires."
Mr Last had compiled the book in secret, starting in October 2012, and received it in time to present to Kathryn on her birthday, at the end of January.
"It sounds arrogant but it is beautiful when you look at it," he said.
"The letters people used to write to each other are far better than text messages, but this is a bit of history.
"It's the kind of thing that if and when we have children, the first thing they'll say is 'what's a text message?'
"It's a historical document as much as anything else."