UK storm: Damage across counties in the East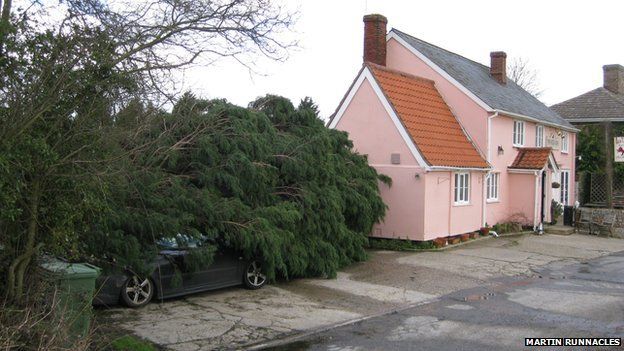 About 4,500 homes are still without power following strong winds and heavy rain which battered the East.
Trees have fallen across the region, closing roads and bringing down power lines.
Train services were disrupted and the A14 was shut in both directions between junction 23 Spittals interchange and junction 24 Godmanchester.
In Belchamp Otten, Essex, two brothers had a lucky escape when a tree fell on their cars in a pub car park.
Richard Webber, 70, and his brother David, 68, were unhurt as the tree fell between the cars, which were damaged.
"I just laughed and I wanted to get my pint," said Richard Webber, who along with his brother had been about to move their cars.
"But afterwards in the pub I had more than one."
In Raunds, Northamptonshire, the roof was blown off the sports hall at Manor School and Sports College.
Principal Linda Brooks said she was "shocked" when she saw the damage.
"It's not every day you arrive and see half the roof of your sports hall hanging off," she said.
The school and college is now closed and will reopen when the site has been made safe.
In Chatteris, Cambridgeshire, an empty shop on East Park Street collapsed on to a car in the early hours of the morning.
Cambridgeshire Fire Service said no-one had been hurt.
The Imperial War Museum in Duxford has been closed until further notice as the AirSpace hangar has been damaged.
The same problem caused the museum to close in early January.
The fire and rescue service in Essex said it had received more than 100 storm-related calls since Friday evening, including two about roofs being blown off houses in Harlow.
Power cables were brought down at Wisbech in Cambridgeshire and Tilney All Saints in Norfolk.
Norfolk Police said it had received "numerous" calls about trees blocking roads.
Parks and cemeteries in Ipswich, Suffolk, which were closed because of the gales, reopened early on Saturday afternoon after the borough council carried out a safety assessment.
A spokesman said: "We still advise people to take caution in open spaces."
Related Internet Links
The BBC is not responsible for the content of external sites.