South East Coast Ambulance Service 'dispelling myths'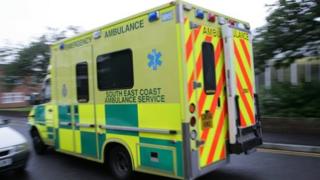 An ambulance service has set out to try to "dispel myths" about its work among the wider public.
South East Coast Ambulance Service said mistaken ideas about its work had developed over time, and may have stemmed from when ambulances were seen as a transporting service.
Now highly-trained crews brought expert treatment to patients instead of taking patients for treatment, the trust said.
Public awareness sessions are being held next month.
A spokesman said it was important people understood how the service worked, so they used the 999 number and other NHS services for their intended purpose.
Explaining some of the "myths", he said: "Calling 999 doesn't mean we'll definitely send an ambulance - we'll provide the most appropriate response."
This could be a phone call, a visit by car, or a referral to another part of the NHS, he said.
Patients were also not taken to the nearest hospital but the most appropriate hospital, he added.
Arriving at A&E by ambulance did not mean a patient took priority - they were assessed along with everybody else, he said.
"In terms of where the myths originate from, I think these have developed over time and some may stem from the past when the ambulance service was simply seen as transporting service.
"It has changed a great deal since then."