Southampton palm oil warning for dog walkers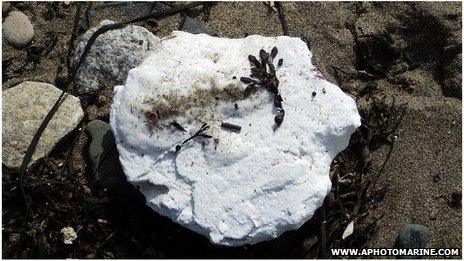 Palm oil has washed up in Hampshire following the recent storms.
Pieces of the white, chalky substance, slightly smaller than a rugby ball with a sulphur smell, have been found on Southampton's Weston Shore.
It is not harmful to humans but can cause injury or death to pets, particularly dogs, if ingested.
Anyone who finds any should contact their council or dispose of it safely, fire officials said. The source of the oil is not known.
Hampshire fire service advice stated: "Wear double vinyl gloves and place in a strong plastic bag over the substance and bag it up, place the outer gloves in with the oil, tie it off, then place into a second strong bag and also tie off.
"This can be disposed of in ordinary refuse."
Dog walkers have been urged to keep their pets on a lead on the foreshore.
Related Internet Links
The BBC is not responsible for the content of external sites.