Heroin: Durham police chief in 'honest' drug debate plea
A police chief has urged a "more sensible" approach and honest debate about tackling heroin abuse.
Durham Chief Constable Mike Barton has said the war on drugs is failing and has called for class A drugs to be decriminalised.
Last year he joined his Police and Crime Commissioner Ron Hogg in the belief that addicts should have access to "consumption rooms" where they could inject prescribed heroin legally.
Their idea is that using drug consumption rooms to treat heroin addiction should be explored further and that it would help take drugs off the streets and reduce crime.
Further, they say the heroin should be provided by the state to stop money going to criminals.
'Failed policy'
Mr Barton travelled with the BBC's Inside Out programme to Copenhagen where there is an experiment with drug rooms - although users supply the drugs themselves.
The police chief said his approach was "not going soft on drugs" but "going sensible on drugs".
He said: "I have thrown the kitchen sink at drug dealing and drug taking for 34 years and it's not getting any better, in fact it's getting worse and I'm saying let's have that honest debate.
"What I'm saying is let's take the money out of the business."
He said he felt it was important to make the comments while he was a serving police chief constable, had "something to lose" and had control over such things.
For the Inside Out programme, he debated the issue with Mail on Sunday columnist Peter Hitchens who said he believes law enforcers had caused widespread drug abuse by not properly enforcing existing laws.
He said: "What has failed, is trying to tackle supply alone while leaving demand untouched.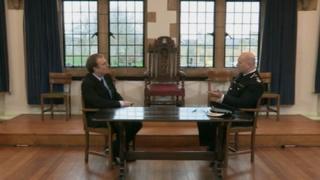 "Now how is it that with the support of chief police officers, with the support of members of parliament, with the support of ex ministers, with the support of almost the entire media and academic establishment, this failed policy continues not to be examined seriously.
"Wouldn't it be your job rather to say 'look we have a law to enforce, why don't you back us on enforcing the law?'."
"The reason why the police... are foremost in calling for the abandonment of the law is it is a waste of your time going round arresting people who the prosecution service won't prosecute and, if they did, the magistrates wouldn't punish."
'Tsunami of drug taking'
Mr Hitchens said he would advocate pursuing the possessors of drugs rather than drug dealers because if nothing serious was done about consumption there would be no effect on the problem.
He believed what Mr Barton was suggesting would mean the laws would be "further weakened" and that it was taking the wrong direction
But Mr Barton said that would not work because he had 1,700 registered heroin addicts in the Durham force area and 1,200 officers and that it would not be practical to tackle "such a tsunami of drug taking" by arresting people.
He said it was not possible for the police to tackle the issue by themselves, and pointed to studies in Brighton, London and Darlington which showed giving some people heroin in consumption rooms had helped get them off drugs.
"If they do not come forward for help, they are a criminal. If they come forward for help, they are a patient if a nurse or doctor is seeing them", he said.
"Anybody that comes forward for help should be decriminalised because I want to encourage people to come forward and that's how I can protect society."
At the time of the announcement of the initial idea from Mr Hogg and Mr Barton the Home Office said the government was examining drugs strategies in other countries.
Public Health England said consumption rooms might not be the best way to tackle illegal drug use.
In a statement, it said: "These facilities would be expensive to provide and may not be the most cost-effective way of achieving outcomes for service users."
See more on this story on Inside Out North East and Cumbria on BBC One at 1930 GMT on Monday 24 February.