Drive-by shooting on London's Waterloo Bridge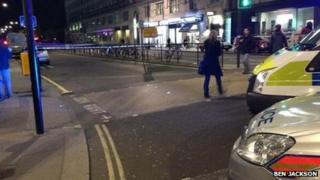 A gunman on the back of a motorbike shot a man in a suspected drive-by shooting on London's Waterloo Bridge.
Three men were arrested after a black Ford Focus was shot at, at about 20:00 GMT on Friday.
A 22-year-old man was taken to an east London hospital with head injuries, but has since been discharged.
The arrested men, believed to be 22, 23 and 24, are being held on suspicion of firearm offences.
Police said the bridge's southbound carriageway was closed until about 02:00.
'Conscious and breathing'
Scotland Yard's Trident gang crime unit is investigating the shooting.
London Ambulance said the victim was "conscious and breathing" at the scene.
Student Ben Jackson said he saw the aftermath of the shooting as he walked down The Strand, in central London.
"The area was cordoned off and there were lots of people around," said the 21-year-old.
"I saw three men being led away in handcuffs by police."