Clive Mantle case: Two cleared of Casualty star attack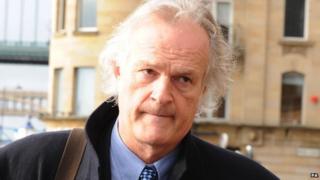 Two men have been cleared of attacking Casualty actor Clive Mantle at a Newcastle Travelodge.
Philip McGilvray and Alan French were accused of biting off part of Mr Mantle's ear in an attack in a hotel corridor in March last year.
Mr McGilvray, 33, and Mr French, 32, both of South Lanarkshire, had denied wounding with intent.
In a statement, the 56-year-old actor - who has also featured in Game of Thrones - said he was "shell-shocked".
'Two hyenas'
Giving evidence, the star said the pair felled him "like two hyenas bringing down an old water buffalo" as he tried to push past them to make a complaint to hotel staff about excessive noise.
He told the court his ear was bitten three times and he was also punched - with Mr McGilvray and Mr French landing "four absolute pearlers".
At the request of the prosecution, he lifted the hair he had grown long over his ears to show the chunk missing after Mr McGilvray's bite.
He told the court he had grown a large moustache for his role in a touring production of The Ladykillers and was in his pyjamas and a T-shirt when he was woken in the Travelodge.
But the pair denied that version of events and Mr McGilvray said the 6ft 5in actor knocked him to the floor in an attack that felt like "being hit by a car".
He admitted biting Mr Mantle's ear but claimed he was acting in self defence after being pinned down.
'Big monster'
He told the jury: "I was on my back and Mr Mantle was straight on top of me.
"All I had done was speak to some girls and then I had a big monster on me.
"I don't know why I did it, I could not get away, I did not know what he had in his hands - I thought he was trying to kill me."
Mr McGilvray, of Arbroath Grove, Hamilton, told the jury he had been drinking with his friends since the afternoon before returning to the hotel with Mr French, of Forrest Gate.
The pair then began walking along the hotel corridors looking for Mr French's room, Mr McGilvray said, and that was when he became aware of the actor coming out of his room to tell them to be quiet.
Mr McGilvray went on to tell the court he was ashamed by his actions because he had previously had part of his ear bitten off by a bouncer - who then swallowed it.
He admitted he had previously been convicted of assault and that his brother had been stabbed to death in the street.
The jury deliberated for almost five hours before clearing the pair of all charges.
Neither of the acquitted men commented as they left court.
Mr Mantle was understood to be on holiday. His agent, Bryn Newton, said he was a sweet and gentle man.
In a statement Mr Mantle said: "As much as I am hurt and baffled by the decision, I am more worried at the message it gives out to law abiding people who dare to point out the terrible behaviour of others.
"Are we all just meant to sit back and not say anything? The fact that violent acts go unpunished is equally worrying.
"I would like to thank my friends, family and hundreds of well wishers for their support, and I look forward to getting back to work."