Not much European election fever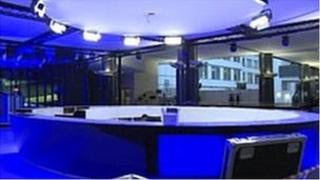 Last week I stood on the third floor of the European Parliament building in Brussels watching engineers put the finishing touches to a glittering new open-plan "election" television studio.
It is a measure of how much interest there is in the upcoming European Parliament polls that television news channels from across 27 member states are already queuing up to broadcast from it.
There is, of course, a 28th EU member state.
"I think BBC Scotland has been in touch but I would have to check to see if any other UK broadcaster has enquired about booking the studio," an official of the Parliament's broadcasting department told me.
Three months to go
As I write, it is three months to the elections which will be held in the UK on Thursday, 22 May - with the rest of Europe voting on Sunday, 25 May.
Back home in Yorkshire the regional and national newspapers are increasingly filling their pages with election news - but we are talking September's Scottish referendum and the 2015 General Election.
The European polls hardly get a look in.
The media are not alone in failing to talk about the European elections.
The day after my return from Brussels I was at the West Yorkshire Playhouse in Leeds to watch Labour leader Ed Miliband field questions from an invited audience of party members and trade unionists.
He was asked about Labour's policies on issues ranging from the economy, HS2, benefits and the NHS. Neither he nor the audience said a word about Europe.
'Bring it on'
In an interview with me afterwards Ed Miliband carefully avoided any mention of UKIP when I asked him why Europe and immigration had been missing from the discussion.
"I think what this shows is that the Labour party knows that if we put forward a positive programme with positive policies that will make a difference then we will get people's support," he said.
"It isn't about negativity."
Interestingly Mr Miliband was speaking on the day Liberal Democrat leader Nick Clegg had challenged UKIP 's Nigel Farage to a public debate in the run-up to the European elections.
Mr Miliband would not answer questions on how he would react if he was also asked to take part in that debate.
Mr Farage, whose party is the bookie's favourite to take a majority of the 60 seats up for grabs in the nine English regions, simply said "bring it on".
The Conservative reaction came from Lord Heseltine who told the BBC's Marr Show that Mr Clegg's challenge was "unwise".
I suppose that is as close as we get to Euro election fever.