South West MPs in HS2 support threat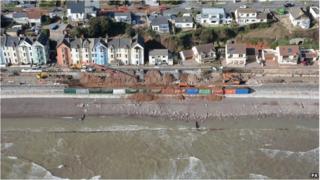 MPs from flood and storm ravaged constituencies said they would refuse to support the HS2 rail line unless major improvements were made to the West Country railway network.
The prospect was raised during a Westminster Hall debate on the impact of recent weather in the South West.
Exeter MP Ben Bradshaw suggested MPs could vote together to undermine the project.
Minister Dan Rogerson said there had been investment in the region.
The main railway line, which links Cornwall and much of Devon to the rest of the UK, was left hanging in the air after storms smashed the sea wall at Dawlish. It is unlikely to reopen before April.
'Second class rail service'
Mr Bradshaw told the debate: "I can tell the minister... that it is politically really difficult in my view, for any South West MP to vote for any more funds for HS2 until we have a firm commitment to address our rail problems first."
Gary Streeter, a Conservative MP for South West Devon, said he wanted funds to provide an alternative line to the South West, which would bypass the troubled stretch of track at Dawlish.
"It's very hard I think to get all members of Parliament to sign up for something like this because there's different agendas running," he said.
"But I agree in theory that there's enough members of Parliament in Devon and Cornwall, and possibly Somerset and further afield, who could make a real impact if we were to act collectively on this."
Network Rail has said it is considering five route options after the South West link was destroyed by storms.