Bob Goold inquest: 'No gross failure' in end-of-care death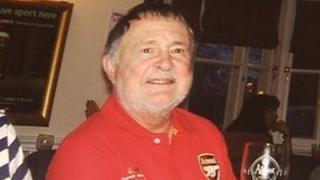 There was "no gross failure" in the care of a man whose life support was withdrawn, despite his family not being properly consulted, a coroner has said.
Bob Goold, 69, of Stevenage, Hertfordshire, was in intensive care following a fall when food and fluids were stopped at Addenbrooke's Hospital.
He died more than a week after being placed on the Withdrawal of Treatment Pathway in February 2013.
Huntingdon coroner William Morris recorded a narrative verdict.
The inquest, which began in January, heard Alzheimer's patient Mr Goold fell at his home on 3 February 2013.
He sustained severe head injuries and was taken to Addenbrooke's in Cambridge.
'Going to die'
He was placed on life support, but his condition failed to improve and he was put on the Withdrawal of Treatment Pathway - the hospital's equivalent of the Liverpool Care Pathway.
He died seven days later on 25 February of bronchopneumonia, in association with the withdrawal of his treatment, as well as injuries sustained from his fall and advanced Alzheimer's disease.
During the inquest, Mr Goold's daughter Susan Phillips said the hospital stated that end-of-life care would be best for her father but the family had not given permission for it to begin.
Reviewing the evidence, Mr Morris said Mr Goold's dementia had already compromised his life expectancy and after the fall it must have been "apparent to all that in the absence of some dramatic change Mr Goold was going to die from his injuries".
However, he said Mr Goold's clinicians accepted their interaction with the family was "less than optimal in a number of significant respects" and that a formal consultation and decision on the end-of-care pathway should have taken place.
"This was an unfortunate failure on the part of the hospital but not a gross failure - it did not affect the outcome or what followed that decision," he said.
Giving his verdict, Mr Morris said, after a final attempt to bring Mr Goold of life support failed, "no further treatment was considered to be in his best interests" and he was given "appropriate symptomatic relief" through the end-of-care pathway.