Surrey hospital trust's Berkshire takeover moves forward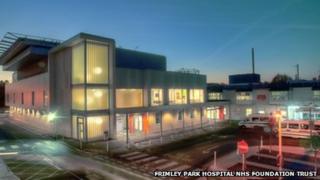 A hospital trust in Surrey has moved a step further with its plans to acquire a debt-ridden neighbouring authority in Berkshire.
Frimley Park Hospital NHS Foundation Trust (FPH) began talks with Heatherwood and Wexham Park NHS Foundation Trust (HWP) last year.
The FPH board says it is now in a position to begin work on a full business case.
The plans will be presented to authorities to seek their agreement.
HWP was £6.9m in debt in April last year and it is hoped the move will improve patient care and services, as well as leading to efficiencies.
The business case is due to be completed by the summer.
In a joint statement, the trusts said the document would form the basis of the proposals made to the board and council of governors of each trust, the Office of Fair Trading, and the regulator Monitor.
The statement added: "The boards of both trusts remain in favour of the acquisition, provided conditions are right.
"An acquisition would, for example, provide a larger catchment population to enable the enlarged trust to sustain existing specialist services."
The acquisition would also provide an option to develop the Heatherwood Hospital site as a centre for planned surgery to serve patients from both trusts' existing catchments, taking some pressure away from both the Frimley and Wexham Park sites.
"However, no final decision has yet been made and the acquisition will only proceed if it is felt to be in the best interests of both trusts and the patients they serve."