Families 'torn apart' by immigration rules on spouses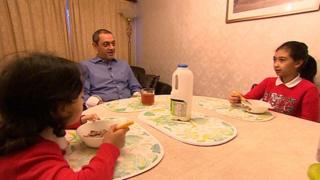 A minimum income requirement imposed on non-EU migrants limits the number able to enter the UK. But some families claim the system is unfair and is keeping spouses and their children apart, as Inside Out East reports.
Farshid Ghafourpour grew up in Cambridge, was privately educated and went to university in the UK. After graduating, he went to live and work in Thailand - where he met his future wife, Korakot.
Twelve years later, he is back in the UK to care for his elderly mother. The couple's two daughters, aged six and eight, are both British citizens by birth.
But unlike many of their classmates, the girls cannot come home from school to a hug from their mother, or have her tuck them into bed at night.
Their only contact with her is via Skype.
'Hope for change'
Korakot is "stuck" in Thailand and cannot join her family in the UK because their income does not meet the £24,800 threshold set by the government.
She initially stayed behind to sell the couple's business, but was unable to do so and therefore did not have enough money to enter the UK.
"It is hard. When my kids ask me about this I have no answer, they do not understand," she told the BBC.
"I have hope maybe something will change and then I can get the visa."
Her husband said he never intended this to happen and the plan had always been for the children to travel to the UK with him first, to get them "acclimatised" to life in the UK, with Korakot to follow.
"They have a right to have their mother living with them to look after them," he said.
"I never thought my wife would get stuck out there.
"I think the government has to look at each individual case and not generalise the whole thing.
"There has to be some merit given to people who are married and are a family."
'Onerous and unjustified'
Under rules that came into force in July 2012, only British citizens with a salary of at least £18,600 a year for the past six months can sponsor their non-European spouse's visa.
This rises to £22,400 for families with a child, and a further £2,400 for each further child.
The Migration Observatory has estimated that, based on these thresholds, 61% of women and 32% of men in employment in the UK would not qualify to bring in a family member.
Clare Hedges, an immigration lawyer with Birketts Solicitors in Cambridge, said: "It has generally been accepted now to have some sort of income requirement to make sure that people can support their family if they come to the UK without recourse to public funds.
"But £18,600 is still a lot more than we expect people to live on if they are on benefits, it is more than you would expect to receive if you were doing a normal working week for the national minimum wage.
"So it has been suggested that that figure should be set at a slightly lower level."
This week, the Court of Appeal is due to hear arguments from the Home Office about why the minimum income requirement should stay as it is.
The government's appeal follows a High Court ruling in July that the threshold is too high.
Three claimants had challenged the income restrictions on the basis the rules were discriminatory and interfered with Article 8 of the Human Rights Act - the right to a private and family life.
Mr Justice Blake described the policy as "onerous... and unjustified". He said the court would not "strike down" the legislation, but urged the home secretary to make adjustments.
The Court of Appeal is expected to reserve judgement for three months.
'Burden on taxpayer'
Julian Huppert, Liberal Democrat MP for Cambridge, said he had been contacted by more than 1.000 people wanting help with immigration since he was elected in 2010.
"Many of these will have contact with my office multiple times over the duration of their cases.
"Some have been waiting more than 10 years for their cases to be resolved. At the same time, we have highly skilled and talented people who we need for our economy, who have waited months for their visas."
A Home Office spokesperson said: "Uncontrolled, mass immigration makes it difficult to maintain social cohesion, puts pressure on our public services and forces down wages for people on low incomes.
"There is still much more to do, but we are building a system that is fair to British citizens and legitimate migrants, that is tough on those who abuse the system or flout the law, and that ensures people come to the UK for the right reasons - to work hard and contribute to our economy and society.
"This is why we revised the family rules, taking advice from the Migration Advisory Committee about income requirements, to make sure those coming to the UK to join their spouse or partner will not become a burden on the taxpayer."
But Mr Ghafourpour insists his wife would not be a burden.
"She wants to come and work, she has always worked," he said.
"In Thailand they don't have social security like they do in England, so everyone goes out to work and everyone gets a job.
"She'd contribute and she'd work to provide for the family and to take care of the girls as well."
Watch more on this story on Inside Out at 19:30 GMT on BBC One East, and afterwards on iPlayer.