East of England Ambulance: 120 new vehicles to cut delays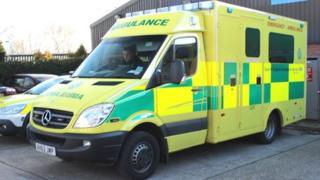 An ambulance service criticised over poor response times in rural areas will take delivery of 120 new vehicles before the end of April.
The East of England Ambulance Service NHS Trust (EEAST) is replacing the older ambulances in its fleet.
The first of these will go into service in Norfolk where cover was said to be poor in reports by health watchdogs.
New chief executive Dr Anthony Marsh has pledged to improve and expand the existing fleet across the region.
The trust handles more than 900,000 emergency 999 calls a year across Bedfordshire, Cambridgeshire, Essex, Hertfordshire, Norfolk and Suffolk.
Dr Marsh made it clear, when he joined EEAST at the beginning of this year, that one of his priorities would be to improve the fleet.
'Excessive times'
"We need to get more ambulances on the road treating patients," he said.
"We also need to ensure that those ambulances meet the needs of both the crews and the people they care for.
"It is my ambition for us to have no ambulance or response car that is more than five years old."
The Trust is also replacing 68 of its rapid response cars by June.
A Care Quality Commission (CQC) report last year said the impact on patients waiting for transport to hospital remained a "moderate concern".
The service said improvements to highlighted problems were under way.
A CQC report following another inspection in December said response times to life-threatening 999 calls had not seen the required improvements and some senior fire officers said crews often waited "excessive times" for an ambulance to arrive following road traffic accidents.
But it also said patient experience with crews overall was "very good" and complaints about ambulance delays had fallen.