Spree killer Joanne Dennehy 'had no remorse'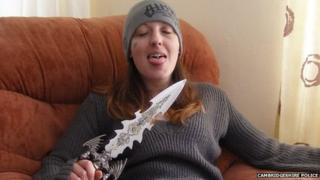 Triple killer Joanne Dennehy is only the third woman to be handed a whole-life jail term, after Myra Hindley and Rose West.
Dennehy, 31, admitted murdering Lukasz Slaboszewski, 31, Kevin Lee, 48, and John Chapman, 56, in March last year.
She also admitted the attempted murders of two other men, Robin Bereza and John Rogers.
Sentencing her at the Old Bailey, Mr Justice Spencer told Dennehy she had murdered three men in cold blood.
'Cruel, calculating, selfish'
"Although you pleaded guilty you have made it quite clear that you have no remorse for those murders," he said.
"With the help of one or more of your co-defendants you dumped the bodies of your three victims in remote rural areas around Peterborough hoping they would not be found.
"Only a matter of days later you attempted to murder two more men, this time openly on the streets of Hereford; victims chosen entirely at random.
"Miraculously they survived. You claim to feel remorse for stabbing those two men nearly to death. I have no hesitation in rejecting that suggestion. You are a cruel, calculating, selfish and manipulative serial killer.
"The death and destruction for which you are responsible, Joanne Dennehy, has caused untold distress to the families and friends of the men you murdered and to the victims who survived and their families.
"You, Joanne Dennehy, described yourself to Kevin Lee as a monster for what you had done in the past. Kevin Lee's widow describes you as a monster who has taken and ruined her family's lives.
"Robin Bereza speaks of his inability to grasp the reality that anyone could be so evil as to attack someone in this way for no reason, someone you had never met.
"The experience has totally shaken his confidence and turned a robust former fireman into a nervous shadow of his former self.
"The lives of his wife and family have likewise been turned upside down and it is only with their love and support that he has been able to come to terms at all with the enormity of this experience.
"John Rogers acknowledges that he owes his life to those who came to his assistance so promptly and the doctors who treated him so expertly.
'No personal attachments'
"You have not sought to put forward any partial defence to murder based upon your psychiatric condition.
"You very strongly declined the opportunity to do so by the firmness of your guilty pleas to all counts on the indictment when you were first arraigned on 18 November last year.
"Your counsel accepted in mitigation that you do not have the normal range of emotions and you do not form personal attachments.
"Others end up suffering because of your personality and that risk is removed by your being in custody. I do not consider that your personality disorders or psychiatric condition afford any mitigation in this case.
"You have shown no genuine remorse. Quite the reverse. In the letter you have written to me you say in terms that you do not feel any remorse for the murders, and to claim otherwise would be a lie.
"You claim in that letter, and this formed part of your counsel's mitigation, that you do feel remorse for the attempted murders. You say that you are ashamed of the brutality and fear you heaped upon those two victims and that the attacks will always be a great source of regret.
"The only reason you can offer for the attempted murders is 'drunken cruelty plain and simple, compelled by my lack of respect for human life'.
"As I have already made clear, I reject your protestations of remorse for these attempted murders.
"I note that you told the psychiatrist that you killed to see how you would feel 'to see if I was as cold as I thought I was. Then it got moreish and I got a taste for it.'
"It is very significant, in my judgement, that from a single stab wound to the heart to kill your first victim you progressed by the end to the frenzied attack on John Rogers when you so nearly killed him, stabbing him more than 30 times.
"You told the psychiatrist you saw the killings as a kind of fetish and that you were sadistic.
"I have considered very carefully all the circumstances of this case, and all the features of aggravation and mitigation, including your guilty pleas.
"I am quite satisfied that the seriousness of these murders is exceptionally high and that the element of just punishment and retribution requires the imposition of a whole-life order."