Storm-hit Dawlish: 'Difficult' to get alternative rail line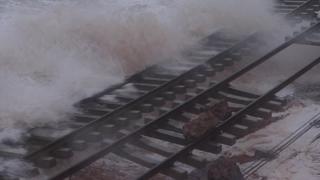 A transport expert has said it would be "very difficult" to get a second railway line into the south-west of England approved, despite the main link at Dawlish being destroyed by storms.
Tom Worsley, who set up the model used by ministers to decide which schemes get the go ahead, said it might be possible if the alternative was cheaper than maintaining the coastal route.
But he added the cost was an issue.
The government said Network Rail was assessing the options.
'Big hurdle'
On Wednesday, Network Rail announced it was considering five route options after the South West link was destroyed.
Mr Worsley, from the Institute for Transport Studies, said: "New railways are very expensive, more land would have to be purchased and there would also be issues about the stations the new route would serve and whether some towns would be bypassed."
Transport spending in the south-west of England is £212 per person, the lowest of any region in England.
The historically low transport investment in the region is linked to the relatively low number of rail users in the far South West, with about 2.6 million passengers a year using Plymouth Station compared to about 11 million which pass through Bristol.
Prof Jon Shaw, from Plymouth University, said: "We're going to have a lot of competition [for funding], we've got a big hurdle to overcome to convince the government we need the money first this time instead of it going elsewhere."
A spokesperson for the Department for Transport said: "Network Rail has been asked to look at options for Dawlish including a review of securing the coastal line and the feasibility of alternative routes.
"We have no pre-conceptions as to the best way forward, but we envisage that whatever solution is adopted, the key south Devon coastal resorts should continue to be accessible by rail so far as practicable.
"Network Rail is expected to report back to us by early July."
On Tuesday, West Country leaders appeared before the House of Commons Transport Committee and said businesses and tourism had been "devastated" by the storms and destruction of the rail line.
Network Rail told the committee it had been working round the clock at Dawlish and hoped to reopen the railway line before its target of mid-April.