How accountable are public bodies when questioned?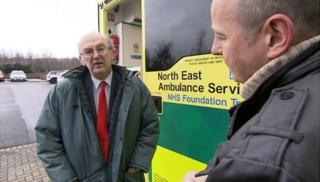 Accountability, transparency, openness. They are all values that most of us would hope public bodies would aspire to.
Yet in the world of "reputation management", PR and dare we mention the word "spin", I have anecdotally noticed over the years a growing reluctance by many organisations to put themselves forward for interview.
As we all pay their wages it's not unreasonable for them to be held to account.
Holding to account
The starkest example of this reluctance to speak on camera came a few weeks ago when we looked at the website Real Whitby where citizen journalists have been publishing stories about the local councils and individuals.
Critics say it's scurrilous rumour and hearsay without any real evidence, others champion its courage for trying to expose the alleged goings-on in the corridors of power.
When we put some of the allegations to the test we naturally approached the relevant councils, councillors and police to get their side of the story.
Of seven public bodies or figures, all declined to be interviewed. Instead they issued statements.
What you end up with is a legitimate reply to a legitimate question. What you don't get is a follow-up.
By not agreeing to an interview the audience is denied a chance to gauge the response as the interviewer probes further to really drill down into the facts of a story.
In its inimitable style the current edition (issue 1360) of Private Eye magazine cites this refusal to take part in the programme as a "poor show".
In this week's programme, North East Ambulance Service did speak to me about a failure to carry out the fullest checks on businesses they awarded contracts to.
Fair play to them for not only talking to me but also owning up to where they went wrong.
It's for the audience to decide if this damages its reputation or perhaps enhances it for being so very open in addressing issues.
I decided to look back at our investigative stories involving public bodies over the last two series of Inside Out to see who spoke to us and who didn't.
I'm hoping that when we return with a new series later in the year I will be able to publish a more favourable table.
Correction: in an earlier version of this table we erroneously included Durham Police as having declined an interview request re the Dog Dealers - In fact we did not ask them for an interview. We are sorry for the mistake.
Inside Out can be seen on BBC One at 19:30 GMT on Monday, 3 March, 2014 and for seven days on the BBC iPlayer.