Elouise Keeling asthma death: Ambulance went to wrong RAF base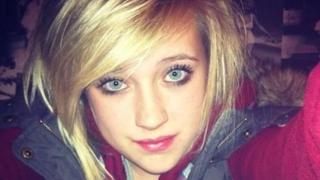 An ambulance took 19 minutes to reach a girl having an asthma attack during an RAF sports day because it went to the wrong base, an inquest heard.
Elouise Keeling, 14, collapsed with breathing problems at RAF Brampton near Huntingdon on 25 June last year.
An ambulance called at 19:44 BST went to RAF Wyton, 10 miles away, by mistake and did not arrive until 20:03 BST.
Miss Keeling died at the scene as her mother Karen looked on helplessly, an inquest at Huntingdon Law Courts heard.
'Sounded panicked'
Miss Keeling had suffered from asthma since she was 18 months old, Coroner David Morris was told.
Her mother said: "She rang me and said, 'Mum, my asthma is really bad, you need to come now'. She sounded really panicked.
"When I got to her she was lying on her back. Her eyes were open but she was unconscious. I knelt by her side and talked to her and kept telling her I was there."
As Mrs Keeling tended to her daughter, she overheard a phone conversation with the ambulance service.
"I heard someone saying, 'You shouldn't be there, you've gone to the wrong RAF base'," she added.
'Struggling for breath'
Wing Commander Anthony Kelly, in charge of Air Cadets in Huntingdon, told the inquest there had been incidents in 2006 and 2012 when ambulances had been unable to find the base because of an issue over its postcode.
"My understanding is that the matters were reported to the ambulance service," he added.
Michael Smith, a senior air cadet instructor, made the 999 call and told the inquest: "She turned blue and was struggling for breath. She said she was going to die."
He said the ambulance service call handler insisted on him giving a postcode.
"She asked if it was RAF Brampton and Wyton. I said it was two separate bases and RAF Brampton was in the village of Brampton."
Suzanne Truston, who took the call at an ambulance service base 75 miles away in Norwich, said: "Linked, to me, means close to or next to."
She said the problem had come to light when she asked Mr Smith how far he was from a water tower, which was actually near Wyton.
"In hindsight the road name would have helped and I now always ask for a road name for any RAF base," she added.
The inquest continues.