'Record number' of dead seabirds washed up from storms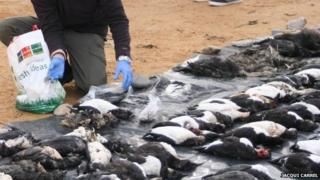 More than 2,000 dead seabirds were found along the coasts of the Channel Islands, Cornwall, Devon and Dorset last month, the RSPB has said.
The "unprecedented" total death toll of seabirds killed across the North East Atlantic is expected to exceed 28,000 birds following the winter storms.
The seabirds have washed up around the UK as well as in France and Spain.
More than 1,000 dead seabirds have been recorded on the Channel Islands alone.
Dr Euan Dunn, RSPB principal marine advisor, said: "This seabird wreck, on a scale unprecedented in living memory, could have profound impacts on vulnerable seabird breeding colonies, including the Channel Islands and the Isles of Scilly."
Altogether 20 different bird species have been recorded with only a small proportion found alive.
Puffins fared particularly badly with 97 found dead on the Channel Islands.
Most dead and live beached birds were "clean" though more than 100 oiled birds were reported on South West beaches.
Roland Gauvain, Alderney Wildlife Trust manager, said: "Over the last three weeks we have seen more seabirds dead on our shores than we would expect in five to 10 years.
"Here on Alderney, and within the Channel Islands as a whole, we are witnessing greater and greater pressures, from climate and human interaction, on some of our most charismatic wildlife."