Road-kill badgers tested for bovine TB in Cheshire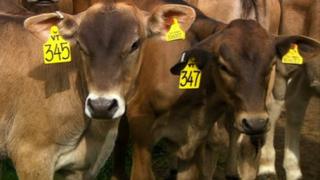 University of Liverpool vets are studying road-kill badgers to establish the extent of bovine TB in Cheshire.
It follows a controversial badger cull in Gloucestershire and Somerset that scientists concluded was "ineffective and inhumane".
Cheshire is considered a "border area" where action is needed to stop the disease spreading further north.
Those behind the study say it is the first in 10 years to try to pinpoint TB risk areas to tackle its spread.
The extent of the badgers' role in spreading the disease "remains unknown", they added, and Cheshire Wildlife Trust is expanding its vaccination trials in the county.
'Serious disease'
There were 143 new cases of bovine TB across Cheshire in 2013 which led to the destruction of 829 animals, the Animal Health and Veterinary Laboratories Agency said.
In the UK as a whole, more than 27,500 cattle were slaughtered.
Badger cull in numbers
50%
or fewer badgers were killed than target figure
6.4% - 18% badgers took longer than five minutes to die

1,771 number of badgers culled*

£7.29m estimated cost of badger cull, according to animal welfare charity*
PA
Richard Fair, a dairy farmer and chair of the Cheshire Bovine TB Eradication Group, said: "This initiative offers an opportunity to look at the level of infection in local wildlife to really get a handle on where the disease is so we can work together to stop it in its tracks."
Professor Malcolm Bennett, who is leading the study, said: "Bovine TB is a serious disease and how to go about its control is both a complex and controversial issue.
"Any solution should be based on evidence."
An independent scientific assessment of last year's pilot badger culls in parts of Gloucestershire and Somerset last week concluded that they were not effective.
The number of badgers killed fell well short of the target deemed necessary and up to 18% of culled badgers took longer than five minutes to die, failing the test for humaneness.