Manchester Cathedral opens Stations of the Cross exhibition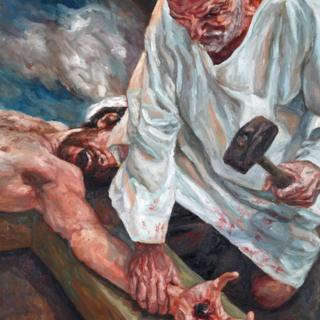 An exhibition depicting the stations of the cross has been unveiled at Manchester Cathedral.
Artist Rob Floyd, from Wilmslow, Cheshire spent two years creating 18 life size paintings, which he has donated to the cathedral.
The Stations of the Cross exhibition illustrates the events leading up to and after Jesus's crucifixion.
Rachel Mann, the cathedral's poet in residence, has written poems inspired by each canvas.
The poems are included in her second volume of poetry called The Risen Dust.
The largest of the artworks was the crucifixion which measures 2.5 metres (8ft) by two metres wide (7ft) which was too big for Mr Floyd's studio.
He said: "I had to paint it in the baptistry at Christ Church, West Didsbury where I was married and my little boy baptised."
The size has also meant the paintings will not be permanently installed at Manchester Cathedral.
Mr Floyd said there are plans to tour around larger churches and cathedrals in England but bring them back together in Manchester regularly.
The 38-year-old artist painted 14 traditional stations and a further five of his own meditations around Christ's Passion including one titled Christ and Judas.
Mr Floyd said the unveiling of his artworks was poignant as it was the cathedral's theologian Canon Andrew Shanks' last art event before he retires.
He said: "Over his ten years at the cathedral he has played a vital and important part in the spiritual and artistic life of both the cathedral and the wider Manchester community."
Mr Floyd specialises in spiritual Christian art and although he also paints landscapes and portraits he said there is always a spiritual element to his artworks.
"Art is my way of engaging with the divine," he said.
The Stations of the Cross cycle will be on display throughout Lent and Easter at Manchester Cathedral.