River Tamar dredging approved for dockyard warships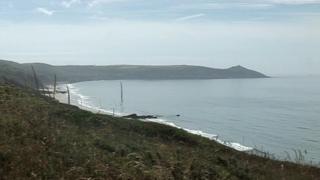 Dredging in the River Tamar to keep channels clear for Devonport Dockyard warships will continue, after a two-year permit was granted.
The Marine Management Organisation (MMO) said dredging was acceptable, despite it being in a Marine Conservation Zone (MCZ).
Critics claim the dumped silt harmed marine life and seawater quality in Whitsand Bay, Cornwall.
But the MMO said the potential impacts had been suitably addressed.
It said before reaching its decision it had consulted statutory bodies such as Natural England, the Environment Agency and the Devon and Severn Inshore Fisheries and Conservation Authority.
'Quite ridiculous'
It subsequently decided the dredging was not deemed to be capable of adversely affecting the ecology of the area or the protected features of the MCZ.
The Ministry of Defence (MoD) said the dredging was essential to its work at HMB Devonport. However, about 300 people joined a protest at Rame Head in January, calling for the silt to be dumped further out to sea.
The two-year licence means that Westminster Dredging Company Limited can deposit more than 300,000 tonnes of silt at the dump site.
Deb Hoskin from Millbrook, who campaigned against the dredging, called it an "irresponsible decision".
"It's quite ridiculous, especially as Whitsand Bay has been designated as a Marine Conservation Zone, which is a recognition of the specialness of the marine life within that area," she said.