London Midland punctuality drop blamed on 'severe storms'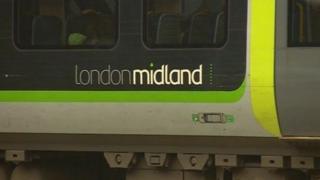 Recent bad weather led to a drop in the number of London Midland trains arriving at their destination on time, bosses have said.
Network Rail figures from 2 February to 1 March, show 84.5% of London Midland's trains were on time.
The national average was 87.1%. During the same period the previous year London Midland's figure was 86.9%.
The operator said "severe storms and two fatalities" caused "major disruption" during the period measured.
"Sections of the roof at Crewe station were blown away leading to the station being evacuated and over 80 services were cancelled in just one day as a result of fallen trees on the line," a company statement added.
Network Rail's criteria for a train arriving on time is that it is not delayed by more than five minutes for commuter services and more than 10 minutes for long distance services.