Hull car wash owner jailed over people-smuggling ring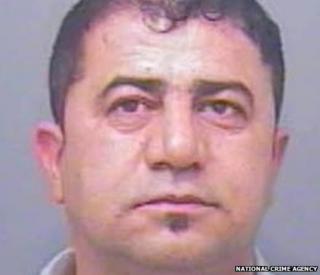 A car wash owner who led a people-smuggling ring in Hull has been jailed.
Ali Raza, 38, was sentenced to six years in prison after he was caught trying to bring five illegal immigrants into the UK.
Raza, of Brendon Avenue, offered cash to undercover police officers posing as lorry drivers to smuggle four women and a man into the country.
He was caught by the National Crime Agency (NCA), Dutch armed forces and Humberside Police.
Hull Crown Court heard how the racket used coded messages to refer to the immigrants, calling females "red Marlboros" and men "white Marlboros".
Arrangements were made for undercover officers to meet two of Raza's associates for a handover.
'Line his pockets'
But the plan to smuggle in the immigrants was thwarted on 26 September 2013.
The NCA arrested Raza while officers in the Netherlands apprehended drivers Emrullah Tozsu, 35, and Arras Monsar-Chafik, 25.
A fourth man, Abdulkarim Helmand, 32, was picked up the following day.
The illegal immigrants, believed to be from Syria, were also detained.
David Norris, NCA branch commander, said: "Raza headed a people smuggling racket that preyed on vulnerable people in order to line his own pockets."
Raza, who owned a car wash near the docks on Hedon Road, was sentenced after pleading guilty to conspiracy to facilitate illegal entry.
Tozsu, of Ordnance Road, Enfield, London, and Monsar-Chafik, from France, were found guilty and jailed for five and four years respectively.
Helmand, from the Netherlands, pleaded guilty and was sentenced to 28 months.