Child killer Raymond Morris 'guilty of more murders'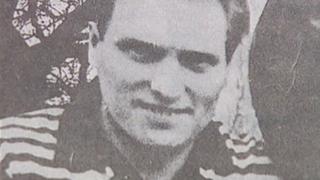 Cannock Chase child killer Raymond Morris has died in prison after repeated attempts to prove he did not rape and murder a seven-year-old girl.
But Maureen Freeman, a former Staffordshire Police officer who worked on the investigation, has no doubt he was guilty not just of the one murder, but of two others as well.
He was jailed after one of the biggest manhunts in British criminal history.
In 1969, Morris was found guilty of the murder of Christine Darby, from Walsall, following the discovery of her body on Cannock Chase.
The youngster's abduction two years earlier followed the disappearance of two other girls - Margaret Reynolds, six, from Birmingham, and Diane Tift, five, from Bloxwich, West Midlands.
All three had been abducted, raped and murdered before being buried on the Cannock Chase Area of Outstanding Natural Beauty.
Morris's wife, Carol, had initially provided him with an alibi for the day of Christine's murder. But after indecent photographs were found at his home she became a prosecution witness.
'Absolutely no doubt'
Factory worker Morris, from Walsall, was only charged with Christine's murder.
Miss Freeman, who worked on the case from start to finish with Staffordshire Police, said she had "absolutely no doubt at all" he was guilty, despite his attempts to clear his name.
The 69-year-old from Cannock said: "The time we had put into it, and the pieces of evidence we had put together, I was very clear: Everything was put together to confirm we had the right person."
'Horrific, exhausting, emotional'
Miss Freeman had only been with the force two years and was just 22 when she started working on the case, which she described as the "biggest of her police career".
She described the experience as "horrific, exhausting and emotional".
Officers took thousands of calls from members of the public and all conversations had to be transcribed.
A special index system had to be introduced to make sure crucial evidence was not lost.
The team undertook numerous visits to Cannock Chase.
Scotland Yard officers were drafted in to support what Miss Freeman described as "the biggest manhunt in the country" up to that time.
"As a team we were so determined to carry on working in order to get our man," she said.
"Day and night. It felt like we were working 24 hours a day non-stop.
"The phones wouldn't stop ringing. There were loads of calls coming in with cars and registration numbers, and everything was gone through like a fine-toothed comb."
Miss Freeman said Morris was eventually caught after witnesses reported seeing his car in the area where one of the girls had been abducted.
She said he was always suspected of the two other deaths, but there was not enough evidence to charge him.
"He really was heavily suspected by the Scotland Yard team," she said.
"There was no technology or DNA or that kind of stuff to help police at that time, so it was a completely different type of inquiry than it would be today."
Miss Freeman said piecing information together over a period of time led her to believe he was guilty of the other killings.
"There are things that didn't come out to the public and certain things still haven't come out. It was a gathering of evidence statements and different things all rolled into one."
'Cold, calculating man'
She said: "I can remember them bringing him in.
"The atmosphere was just one of relief.
"We were not jumping up and down - there was still work to be done - but we were relieved we had finally got our man."
She stood next to him in the dock on the day he was sentenced in Stafford to life imprisonment.
"I will never forget those cold calculating eyes," she said.
"He just stood there staring. No remorse. Nothing.
"He was the most cold, calculating man I have ever stood next to."