Flood-damaged Sonning Bridge set to reopen by weekend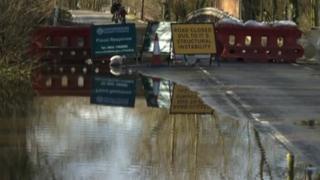 A flood-damaged commuter route linking Berkshire and Oxfordshire is reopening earlier than planned.
The B478 Playhatch Road leading to Sonning Bridge shut on 2 February.
Oxfordshire County Councillor David Nimmo Smith said engineers who assessed the route on Wednesday felt the road was safe to reopen to single lane traffic.
The route due to reopen on Saturday, carries an estimated 16,000 cars on weekdays.
Mr Nimmo Smith said: "What we then have to do is work up a programme for the embankment and surfacing works which is a question of timing as we want it to be done when the traffic is lighter."
A bid was put forward by the council to the Government on Wednesday to fund the scheme which it estimates will cost £1m.
Its closure has caused long traffic delays in the area with drivers forced to use the other two bridges in the area, Reading Bridge and Caversham Bridge.