Great Train Robbery crossing sign to be sold at auction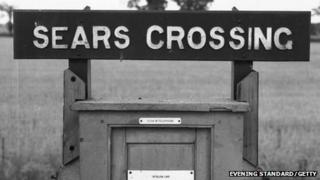 The sign from the crossing where the Great Train Robbery took place is to be auctioned in Shropshire.
The robbers stopped the Glasgow to London mail train at Sears Crossing in Buckinghamshire on 8 August, 1963, and stole £2.6m in used banknotes.
The sign was given to Leslie Bowler, the Inspector of Signals for the then British Railways, and kept by his family, auctioneers Mullock's said.
They estimate the sign will fetch up to £10,000 when it is sold next Tuesday.
Mr Bowler was given the sign "shortly after the robbery" when the Sears Crossing signal box was decommissioned or refurbished, according to the auctioneers.
The gang of robbers stopped the train at Sears Crossing by tampering with the signals.
A glove was placed over the green light to hide it from the driver while the red light was connected to a small battery.