Whitchurch Bridge works delayed further by river flow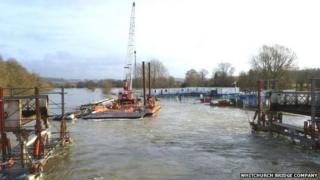 The reopening of a bridge across the River Thames to road traffic has been put back to September because of conditions on the river.
Work on Whitchurch Bridge's £4.3m reconstruction which began in October and was originally due to finish in April, stopped on 20 December.
Environment Agency red board warnings are in place due to strong stream flows stopping the contractors from working.
Its operator said it regretted the delay to residents and businesses.
Geoff Weir, from the privately-owned Whitchurch Bridge Company, said: "The river conditions are truly exceptional. It's really out of our control.
"We hope to get back to work next week."
About 6,000 vehicles a day use the 112-year-old toll bridge between Whitchurch-on-Thames and Pangbourne.
Reading West MP Alok Sharma said: "Yes, we've had bad weather and that clearly has had an impact, but it doesn't have a five-month impact."
Mr Sharma has called for the company to provide a detailed update on what work they have done at the start of each month.