Fire crews in Dawlish controlled landslip operation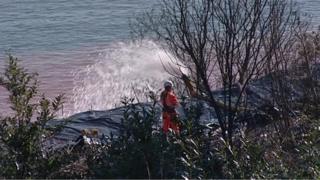 Fire crews are pumping sea water on to the cliff at Dawlish to bring down 350,000 tonnes of potentially unstable rock and soil in a controlled landslip.
Network Rail called in firefighters to prevent a "catastrophic" collapse that could have posed a risk to workers repairing the main Devon railway line.
Storms in February washed away the sea wall and left the rail track suspended in mid air.
A geologist is working with the fire crews and Network Rail's contractors.
Devon and Somerset Fire and Rescue (DSFRS) said crews were brought in after a large area - about 30m (100ft) - of soil and rock directly above the main line at Teignmouth Road appeared to have "slumped".
"Network Rail are now unable to work beneath this area due to the potential for catastrophic collapse posing a risk to workers and causing further damage to the railway infrastructure," DSFRS said.
Crews worked through the night to pump water into the fracture line about 50m (165ft) up the cliff face.
The high volume pump had to be loaded on to Network Rail rolling stock at Dawlish Railway Station and taken along the line to the scene.
Group manager Andy Rowse said: "They've been experiencing landslides for many years along this area of the railway line, so I suppose with the recent weather it wasn't unexpected."
He said the controlled landslide was away from the main section of repair work, which was continuing.
Exclusion zone
Network Rail said it was "unlikely" to impact on the reopening of the railway, which is due on 4 April.
It said land next to the railway was found to have "slipped" after stormy weather of 14 February.
"To safely clear the failing land mass, high pressure water - a similar technique used in clay mining - has been deployed to saturate the land and create a controlled erosion," a statement said.
"This will enable the cliff material to be taken down in a planned and controlled manner to minimise damage to the infrastructure."
Network Rail added that while the "saturation process" was being carried out, an exclusion zone had been set up and work underneath the landslip had been halted "as a precaution".