Domenico Rancadore: Mafia boss wins extradition battle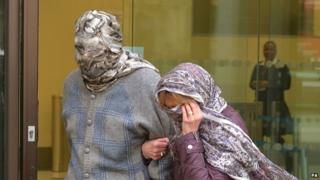 Convicted Mafia boss Domenico Rancadore will not be extradited back to Italy, Westminster Magistrates' Court has ruled.
District judge Howard Riddle said a recent decision of the Administrative Court, which binds lower courts in England, had led to his decision.
Rancadore, 65, known as The Professor, was arrested after evading Italian authorities for 20 years.
He will be bailed while an appeal takes place, the judge ruled.
The Italian Embassy said the country's Ministry of Justice was following the case closely.
Rancadore was told he must live at his home in Uxbridge and report to Uxbridge police station every day.
The 65-year-old was asked to secure his bail with £20,000. He was given a curfew and will also be electronically tagged.
Mr Riddle told the court his original decision was to extradite Rancadore.
In an original draft, Mr Riddle said he was satisfied the European arrest warrant was valid and that extradition was "compatible with the defendant's convention rights, including prison conditions".
'Binding' judgement
However, in a dramatic turnaround, the judge changed his decision following the ruling in a similar case involving the Court of Florence and Hayle Abdi Badre.
That judgement stated there was an insufficient assurance that if Badre was returned to Italy he would not face "the risk of being exposed to prison conditions that would breach his Article 3 rights".
"The judgment of the Administrative Court is binding on me," Mr Riddle said.
During the hearing, the court heard from Italian prison expert Patrizio Gonnella who said Italy had one of the highest rates of crowded prisons in Europe.
He said he had come across many cases of prisoners "living in a state of abandonment".
Rancadore and his wife left court with their faces covered but he got into the wrong car by mistake.
When he got out of that car, he ran down the road towards the correct car.
Family 'emotional'
When asked if he was happy to be out of court, his wife could be heard saying: "Yes, of course he is. He's happy to be home."
Following the ruling, Rancadore's lawyer Karen Todner said: "It's almost impossible to defeat a European arrest warrant but we have been successful today so I'm delighted with the decision.
"He's got a serious heart condition so being in prison is very difficult for him."
Rancadore's family were "very emotional" following the ruling, she added.
The court heard that Mr Rancadore, who has had a stent fitted and suffers from angina, was admitted to hospital last week due to heavy chest pain.
He said he was "not well at all", with pains in his chest, adding: "I feel destroyed."
Rancadore moved to London from his native Sicily in 1994 with his wife and two children.
He was found guilty of Mafia association and extortion in Italy in 1999 and given a seven-year jail term.
Rancadore adopted the alias Marc Skinner, using the maiden name of his British-born wife's mother.
Human rights
Two European arrest warrants were issued for Rancadore in August, and his counsel, Alun Jones QC, told a previous hearing the difference between them was significant.
Mr Jones said the level of crime had been elevated in the second warrant, adding it was a "deliberate decision taken to prejudice this man's rights".
The lawyer described the second arrest warrant as "dramatic" and "lurid".
The full text of the judgment had been requested and the Italian authorities are considering their response, the Italian Embassy said.