M4 Heathrow to Theale motorway expansion plans revealed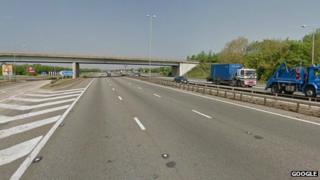 Plans to increase capacity on the M4 have been announced by the government.
The scheme will see variable speed limits and the hard shoulder converted to a traffic lane for 31 miles between the A312 at Heathrow Airport to Theale.
The changes, which the Highways Agency estimates will cost between £614m and £862m, aim to reduce congestion, improve journey times and cut air pollution.
Exhibitions on the plans are being held between 18-29 March.
Refuge bays will be placed along the motorway in place of the hard shoulder, where people in broken-down cars will be able to wait for rescue services - monitored by CCTV cameras.
'Educate motorists'
If approved, the scheme could start in the early years of the next spending review period (post 2015).
Malcolm Bingham, from the Freight Transport Association, said: "Using all four lanes is new so we've got to look to see how we can educate the motorists so they're not confused by it."
It comes as plans to introduce a 60mph speed restriction on a 2.8-mile section of the M3 between Junction 3 at Lightwater and Junction 4 near Farnborough to cut air pollution have been criticised by the AA.
Paul Watters, from the AA, said: "Most of the pollution is coming from the lorries which themselves run at 60mph anyway and they won't have to slow down.
"The cars will have to slow down and yet they are the cleaner vehicles amongst the motorway traffic so it seems a bit ironic to invest all this money in the motorway and then have to screw the speed limit down.
"Its the lorries that cause PM10 [particulate matter up to 10 micrometres in size] - it's going to hit people that it doesn't need to."
The Highways Agency said the new restriction of 60mph would apply from 07:00 to 19:00, seven days a week.
Motorists and other interested parties have until 11 April to comment on the M3 proposals.
It follows a similar plan for a 32-mile stretch of the M1 which was announced in January.