British woman gets life in Pakistan for drugs smuggling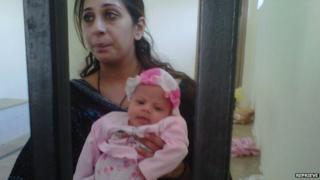 A British woman has been sentenced to life imprisonment in Pakistan after being convicted of trying to smuggle 63kg of heroin out of the country.
Khadija Shah, 26, from Birmingham, was heavily pregnant when she was arrested at Islamabad airport in May 2012.
Shah, who gave birth to a baby girl, Malaika, while in jail, denied the charges against her.
She had two other children with her at the time of her arrest, but they have since returned to Britain.
In 2012, a court in Rawalpindi heard Shah was arrested after 63kg of heroin, with a UK street value of about £3.2m, was found in several suitcases in her possession.
Tuberculosis fears
Shah claimed she was carrying the cases for someone else and was unaware of the contents.
She was convicted and sentenced on Tuesday by the Special Narcotics Court.
Her lawyer Shahzad Akbar said they would appeal against the decision in the High Court next week.
Her family raised concerns for her health, and that of her baby, in a statement in May last year.
At the time, the legal charity Reprieve said it was worried the child had not received immunisations that are routine in the UK and there had been an outbreak of tuberculosis in the prison in 2012.
Maya Foa, director of Reprieve's Death Penalty team, said the news was "a terrible outcome" for Shah and her baby.
"As happens in hundreds of cases, she was used as a drugs mule without her knowledge and yet is facing life in a Pakistani prison," she said.
"The UK government must ensure that Khadija gets the urgent assistance she needs to appeal her sentence so that her baby doesn't grow up behind bars."
Prison officials have previously said Shah and her baby were being treated well.
A Foreign and Commonwealth Office spokesperson said: "We are aware that a British national has been given a custodial sentence in Pakistan.
"We remain in regular contact with her and we will continue to provide her and her family with consular assistance."