Explosion in Derby leads to road closure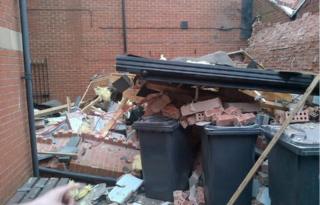 A suspected gas explosion in Derby resulted in one person being taken to hospital suffering from the effects of smoke inhalation.
The explosion is thought to have happened in a laundry block at Kenneth House in Agard Street.
All residents have been removed from the flats and a neighbouring doctors' surgery has been evacuated.
Agard Street, which links Friar Gate with the inner ring road, has been closed.
A number of other roads in the area have also been shut.
Witnesses reported hearing a loud noise at about 10:30 GMT.
Steve Harrison, who lives in Kenneth House, said it was "like an earthquake".
"I looked out of the back window and where there was a laundry room was just rubble and dust coming up," he said.
He said he could smell gas.
BBC Radio Derby's Rachael Gilchrist reported about a dozen emergency services vehicles at the scene.
A Derbyshire Police spokesman said there was not thought to have been anyone trapped in the laundry room at the time.
Chris Smith, who was visiting the flats, said: "I was washing my clothes. My stuff was in the dryer then a song came on I liked so I went back in the flat and 'bang'.
"I thought someone had booted the door. [I] Looked back and couldn't believe what I saw."
An East Midlands Ambulance Service spokesman said: "We took one patient suffering from smoke inhalation to Royal Derby Hospital."
Terry Lambert from Derbyshire Fire and Rescue Service said gas and electricity supply to the flats had been isolated and an urban search and rescue team were on the way from Leicester.