Lewis Carroll letter goes under hammer at Bonhams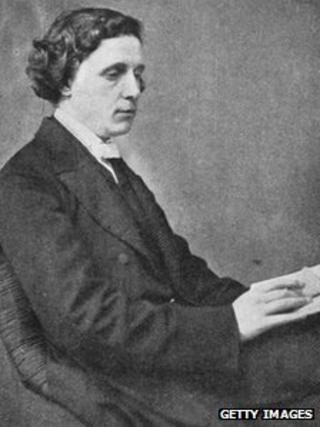 A letter from Alice in Wonderland author Lewis Carroll, in which he complains about the downside of fame, has sold for £11,825 at auction.
Written under his own name, Charles Dodgson, he says he hates "being pointed out to, and stared at, by strangers, and treated as a 'lion'".
The handwritten letter was expected to fetch between £3,000 and £4,000 at the Bonham's London sale.
It was sent to his friend Anne Symonds in 1891.
Carroll was notoriously shy and he wrote that although he realised many people "like being looked at as a notoriety... we are not all made on the same pattern; and our likes and dislikes are very different".
"I hate all that so intensely that sometimes I almost wish I had never written any books at all," it reads.
British buyer
The letter was being sold as part of a books, manuscripts, maps and photographs sale - other lots included first editions of Jane Austen's Pride and Prejudice and Charles Dickens's A Tale of Two Cities.
It was bought by an anonymous British buyer who was present in the room during the bidding.
Two photographs by Carroll also sold at the auction. One of a young girl at the seaside sold for £5,250 and his portrait of a three-year-old girl on a couch went for £2,750.
Carroll was a lecturer and tutor in mathematics at Christ Church, Oxford, and originally wrote Alice in Wonderland as a private gift to 12-year-old Alice Liddell in 1864.
He came up with the story of Alice and her trip to a fantasy world while on a boat trip in the city with the real Alice and her family in 1862.
Their relationship was recently dramatised by American writer John Logan in the play Peter and Alice, starring Dame Judi Dench as the adult Alice Liddell Hargreaves.