Prince Charles visits flood-hit businesses in Yalding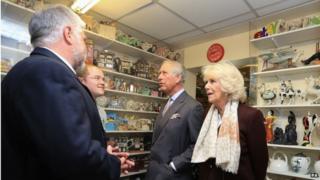 The Prince of Wales and the Duchess of Cornwall have met people in west Kent whose businesses were hit by severe flooding over Christmas.
Yalding was flooded four times in two months when the banks of the River Medway burst, affecting 600 homes.
Prince Charles and Camilla met the owners of a classic car garage and a beekeeper whose 16 hives were swept away.
They later visited the former home of author Rudyard Kipling in East Sussex.
During their visit to Yalding, the royal couple were shown the Teapot Island museum, whose owners Keith and Sue Blazye and their son Luke are still clearing the damage, three months on from the floods.
The mess left by the flood water has caused about £200,000 of damage to the couple's business and home.
"Unless it has happened to you, you would not believe what it is like," Mrs Blazye said. "It's horrible."
Camilla bought a camel teapot as a souvenir.
Kajol Miah, a Yalding business owner, said: "It's a positive for the whole village, it's a big, big encouragement.
"It's motivated everyone and it's a sign for everyone to get up and deal with it, leave it all behind and be positive."
St Peter and St Paul's Church was set up as a relief centre as properties in the village flooded and people had to be rescued from their homes.
The royal couple then went to Burwash in East Sussex to visit Bateman's, the home of author Rudyard Kipling between 1902 and 1936.
The property was given to the National Trust by the family in 1939 and the rooms remain as The Jungle Book author left them.
The couple were greeted by children from Burwash Primary School and also met house manager Gary Enstone.
The prince was presented with a signed copy of a Kipling book called A Fleet in Being, a series of articles about the British Channel Fleet.
Prince Charles and Camilla also toured the house and gardens, including Kipling's study and the the school room, where the couple viewed items from the Bateman's archive, including letters written by Kipling's son, John "Jack" Kipling, who was killed during World War One.
The Rose Garden at the Jacobean house was originally designed by the Nobel prize winning author in 1907.