Budget Day: What does it mean for West Midlands voters?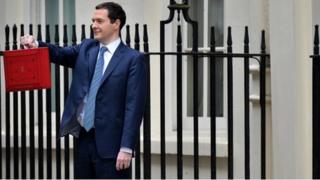 Just over a year to go to the General Election.
And for signs that the pace is quickening in parts of the country like ours, famous for our marginal seats, look no further than this most political of Budget days.
Take for example the see-saw constituency of Burton-upon-Trent in East Staffordshire. It was Labour-held throughout the Blair-Brown years.
But the home of the brewing industry has had a Conservative MP since 2010.
Andrew Griffiths was given one of those "special mentions" during the Chancellor's 55-minute Budget statement that successive chancellors have enjoyed showering on appreciative backbenchers.
He commended Mr Griffiths' his tireless campaign on, surprise surprise, Beer Duty. For years he had railed against what Mr Osborne called "the hated duty escalator".
So now, not only has the escalator been switched off, but the duty itself has been cut, making beer cheaper by no less than one whole penny per pint!
This will not exactly change the world of course. Or anyone's drinking habits for that matter. But that didn't stop jubilant Conservative MPs cheering Mr Osborne's announcement to the echo. The significance was lost on no one.
After the long years of austerity, (far longer, say Labour, than they need have been had the government not choked-off the recovery) the chancellor was at last displaying the kind of crowd-pleasing instincts they've been crying out for, and one that just happens to play particularly well in a marginal constituency.
There were honourable mentions too for other marginal seats including Pendle in Lancashire.
'We've all got budgets'
And with wages predicted by the Office for Budget Responsibility to catching and then overtake prices later this year, the hopes are rising in government that they may be able to raise a glass or to the prospect of a pre-election "Feelgood Factor".
But not if Labour have anything to do with it.
Even before Mr Osborne had risen to his feet, Steve McCabe, Labour MP for Birmingham Selly Oak, got his retaliation in first during Prime Ministers Questions. He challenged David Cameron about the 24 new taxes introduced under the present government. How did that tally with Mr Cameron's claims of tax-cutting instincts?
And as if to underline what a very political Budget day this is, Labour's poster van is hitting the streets of Birmingham with the slogan: "We've all got budgets, George". The poster also attempts to turn one of the Conservatives' favourite logos back on them by telling us "Hardworking people are £1,600 worse off under the Tories".
Yes, this is the most political of Budget days, but who'll get the credit and who'll take the blame?
Fourteen months and counting.