eBay auctions: The 'worthless' gallstones, atmosphere and igloos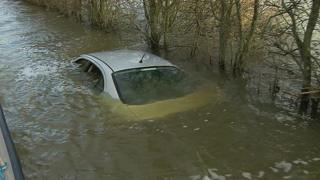 A winning bid of more than £100,000 on eBay for a car submerged on the Somerset Levels for weeks appears to have been a hoax.
The seller, 21-year-old Hubert Zajaczkowski, decided to auction it to raise money for victims of the winter floods.
It attracted more than 100 bids despite being honestly described as "not working" and Mr Zajaczkowski still hopes it will eventually sell. But, it is not the first and certainly will not be the last strange lot to sell on the site.
Here is a selection of the weird and some would argue worthless items to appear on eBay recently.
'Gory' gallstones
A Hertfordshire grandmother sold her gallstones on eBay after having them removed during surgery.
Anita Crawley had originally planned to make them into a necklace before deciding it would be a "bit gory" to thread cotton through something that had come out of her body.
The 66-year-old, who described herself as a bit "off the wall", sold the full set to a "well-known historic building" for their starting price of 99p.
At the time, eBay said the sale of human items was banned and warned it would remove any that were found.
Dan Wilson, author of a book on eBay, said the site had a long tradition of selling "the weird, wonderful and quirky".
"It stems from its origins as a market exclusively for second hand goods and collectables, back in 1995," he said.
'Mancunian history'
A Stone Roses fan advertised "atmosphere" from one of the Manchester band's comeback gigs in 2012, apparently captured in a urine sample bottle at a crucial moment in the set.
Gary Finch's auction listing detailed how he had collected it slap bang in the middle of Roses tracks This Is The One and She Bangs The Drums at Heaton Park.
"Here is your chance to own your very own piece of Mancunian history," he wrote. "Approx 10cc of awesome atmosphere."
Bids reached £500 before Mr Finch removed the listing.
Mr Wilson said eBay was ideal for a "silly or prank" listing because the site is interactive.
"It's the banter that's often the most hilarious aspect of these silly sales," he said.
A Colchester stroll
Lib Dem MP Sir Bob Russell insisted he was "far from red faced" when his "salivating offer" of a two-hour tour of Colchester failed to crash eBay's website.
His advert for a "Rome around Colchester" - in reference to the town being a Roman fortress - promised to take bidders to the spot where he broke his arm, aged 14.
Sir Bob had hoped to raise money for his local party association and later said a number of people had offered the £40 fee.
An igloo for the night
Harrogate is known for its sought-after neighbourhoods and steep house prices. So, when a "smartly appointed" pad with a "huge garden" appeared on eBay in January 2013, more than 15,000 rushed to view the page.
Although it turned out that property was an igloo, built by 31-year-old Craig Parker and friends, bidders were not deterred and hundreds was raised for Yorkshire Cancer Research.
Mr Parker, who has fought cancer three times, was shocked at how much the igloo raised.
He said: "It took us a whole day to build, and we came up against a few risks along the way, children with no building skills, dogs with yellow snow-making capabilities, but we battled on."
But, such a reaction is no surprise to Mr Wilson, who said eBay buyers have long had a reputation as generous fundraisers.
"People see a fun auction and bid it up to often ludicrous sums and that in itself attracts more interest," he said.