Rainbow Centre's £150,000 'urgent' funding appeal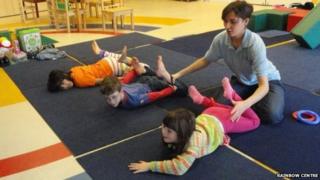 A charity supporting children with cerebral palsy and adults with neurological impairments could be forced to close due to a lack of funds, it is claimed.
The Fareham-based Rainbow Centre said it needed urgent help to raise £150,000 in order to continue its work.
The centre is accessed by people from Hampshire, Isle of Wight, Dorset, Wiltshire, Surrey and West Sussex.
It cited the aftermath of the recession for the lack of cash.
A spokeswoman for the centre, which has operated for 24 years, said there was a "serious risk" its services could cease after the Easter break.
She said that although staff at the centre had been fundraising £47,500 each month, and had developed new initiatives to increase income, time was needed to raise sufficient funds.
Chris Billen's 12-year-old son William has cerebral palsy and used the centre twice a week for five years.
Ms Billen, from Poole, said many of the things he does now result from the help he received at the centre, including assistance with sitting, standing and walking.
She said he would not have become the person he is today "without that intensive help and therapy".
Centre director Lara Bull said: "The board and I are absolutely confident that the strategy we have developed will ensure we should never find ourselves in this position again, we just need time."