Cotswold Airport's owner found guilty of safety breaches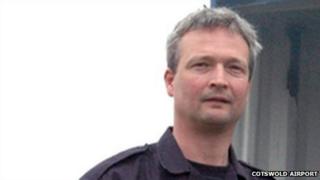 Cotswold Airport's owner has been found guilty of health and safety breaches, after the airport's fire chief died.
Steve Mills, 45, was killed when a gas cylinder hit him on the head when it suddenly discharged, in 2011.
He had been in his role at the airport on the Gloucestershire/Wiltshire border for two years.
A jury decided Kemble Air Services Ltd, which denied the charges, did not put guidelines in place for the safe use of the cylinders.
During the six-day trial Mr Mills, from Malmesbury, was described by colleagues as competent and experienced, and the jury heard how the cylinder was like a "large and fatal Catherine wheel" as it span out of control at high speed.
He was found by a colleague with catastrophic head injuries and a subsequent investigation found a safety cap, which would have prevented the gas escaping, had not been fitted to the cylinder.
The company had pleaded not guilty to failing to make suitable and sufficient risk assessments of the danger to both employees and non employees at the aerodrome.
Spokeswoman Suzannah Harvey said they were disappointed with the verdict as they had believed no assessment was needed.
"Deep down I don't believe we failed Steve in any way but obviously the jury came back with the verdict that they thought was appropriate," she said.
"We still miss him dearly at the airport every day. He was part of the family and it has hit us all very hard."
After the verdict, his father Alan said: "In my opinion no individual is responsible for the death of my son.
"His attitude in life was to achieve perfection on anything he undertook to complete. Time is a good healer but Stephen will be sadly missed for many years to come."