Paedophile priest Francis Paul Cullen's 'calling from devil'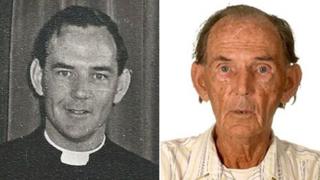 A paedophile priest who abused children for more than 30 years had a calling that came "from the devil", one of his victims said.
Francis Paul Cullen was jailed for 15 years for abusing five boys and two girls during his Catholic priesthood in Derbyshire and Nottinghamshire.
Derby Crown Court heard his victims struggled to deal with what happened and one tried to take their own life.
The court heard Cullen abused the youngsters at home and in his caravan.
Cullen, 85, then went on the run in 1991 and evaded justice for 20 years, before he was caught living on the Spanish island of Tenerife.
'Welcomed into homes'
In one impact statement that was read to the court, the victim told Cullen: "You said you had a calling from God to join the priesthood. You are correct to say you had a calling... just it was from the Devil."
Prosecutor Sarah Knight said the defendant had been a "well-liked and respected" clergyman whom families trusted and children "idolised".
But they were unaware of the "predatory paedophile" which lurked behind the mask, Ms Knight said.
Many of the altar boys were invited to tea at Cullen's home where he then abused him.
Others were attacked after Mass or in his caravan during Cub Scout trips that he ran.
On one occasion, Cullen even travelled to Ireland to visit a victim while he was on holiday, the court was told.
Judge Jonathan Gosling said: "You were also welcomed into the parents' homes.
"They could never have guessed that in truth you were a predatory paedophile - a term which was at that time unknown to the vocabulary."
He abused five altar boys and two girls when he worked as a priest in Mackworth and Buxton, both in Derbyshire, and Hyson Green, Nottinghamshire, between the 1950s and early 1990s.
Judge Gosling said: "The victims of this man's abuse have found it extremely hard to come forward and maintain their determination to see justice done.
"This must have been acutely difficult, in particular when some of them discovered, as surely they did, that following his extradition he was proposing to fight the allegations."
Addressing the victims, some of whom were in court for the sentencing, he added: "I hope that the conclusion of this case will enable them to come to terms with what they suffered over many decades."
Father Andrew Cole spokesman for the Roman Catholic Diocese of Nottingham said: "We are truly sorry for the wrong that has been done by Cullen to his victims and their families; their trust was betrayed and their dignity violated.
"We will do whatever we can to support Cullen's victims and all who have been affected by this tragedy."