Miss Hampshire beauty contest spat as London woman wins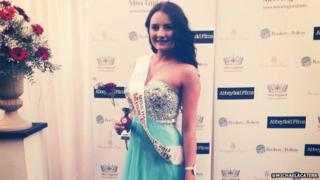 A Miss Hampshire beauty pageant contestant has reacted with dismay at losing out on the tiara to a Londoner.
Michaela Cater, 19, from Hythe near Southampton, said the rule allowing girls within a 50-mile (80km) radius to enter should be scrapped.
Winner Charlotte Giles, who is from Twickenham, said her father worked in Hampshire and she was proud to fly the flag for a county she was "so fond of".
Organisers have said the conditions of the competition are made clear.
'Hold on, who is she?'
But Miss Cater, an A-Level student at Brockenhurst College who made it into the final eight of the competition and also won the title of Miss Popularity of Hampshire, said: "It doesn't add up and it just seems a bit silly.
"I would not enter Miss Dorset because I don't live there.
"How can she go to Miss England when she's got a Miss Hampshire title but is from Middlesex?
"The locals know the contests and they're going to be like 'hold on, who is she? Has she done anything for our community?'
"It just leaves those questions."
Fourteen girls took part in the event in Alton.
Paula Langley, who organises Miss Hampshire 2014, told the BBC it was important to "keep in perspective" that the competition was a national event.
"Hampshire is just a heat of Miss England," she said.
"We are looking to find the most talented, the most intelligent, the most eloquent, the most charitable young woman to represent England at Miss World."
Ms Langley said there was no Miss Middlesex competition, so Miss Giles entered the Miss Hampshire as she "loves" the county and her father works there.
'Really great girls'
Miss Giles, 22, tweeted that she was "so excited for my year as Miss Hampshire" and said she was looking forward to raising money for the Miss England charity.
And, writing on the Miss Hampshire Facebook page, she said: "I am incredibly excited and honoured to be part of the Miss England finals and grateful that the Miss Hampshire competition, as well as being a fantastic experience, has provided me with an opportunity to do so, a link I would otherwise not have had with no Miss Middlesex running.
"I have been fortunate enough to make new friends with some really great girls by doing this competition and can't tell you how excited I am for some of the fundraising events I have planned for the next year.
"I am proud to be 'flying the flag' for a county that I am so fond of in the finals and I will do my absolute best to bring the Miss England crown to Hampshire."
She will now take part in the Miss England competition in Torbay in June.
It has not yet been announced when or where the 64th Miss World competition will take place. Megan Young from the Philippines won the 2013 title in Bali.