South Western Ambulance Service sat-nav 'fails to find home'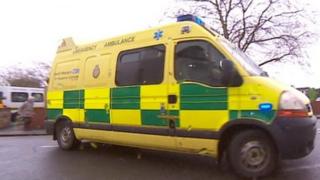 An ambulance in Wiltshire was delayed by more than an hour because its sat-nav could not find a house.
Jill Hillman, from Trowbridge, called an ambulance for her seriously ill father in February but had to guide the crew to her address over the phone.
South Western Ambulance Service said it updated its systems every two to three years.
It said it tried to keep abreast of new housing developments and dealt with "black holes" on its maps when needed.
The ambulance trust covers about 10,000 square miles (26,000 sq km) and serves about 5.3 million people.
Artist Mrs Hillman, who has had problems with deliveries since she moved in 2005, said: "I was told it would be here in under an hour. I did point out there may be a problem with the sat-nav but they assured me that they have got good maps.
"The ambulance did arrive eventually but it was after we'd had a call from the centre, to say 'sorry, where are you because the ambulance has got lost?'"
"When they turned up they were very apologetic and wholly professional. I would have been worried had it been something more serious," she added.
Mrs Hillman's father was taken to hospital and recovered. A week later a doctor was also summoned and also got lost.
'Black holes'
South Western Ambulance Service said that with 2,500 emergency calls a day, there would be some mistakes, but it did everything to mitigate the risks.
Andy Perris, from the service, said: "The new build rate increases exponentially each year.
"Where we are notified... we will update our systems in advance of getting an update, especially if it's a big new build where we get called fairly frequently."
In February last year the Great Western Ambulance Service NHS Trust (GWAS) merged with South Western Ambulance Service Foundation Trust (SWASFT) to create a single foundation trust.
In the former Avon, Wiltshire and Gloucestershire area, the service spent £2,700 on each sat-nav for each ambulance and fast responder, and £50,000 a year on maintenance.