Elderly losing out on health funding, says Suffolk MP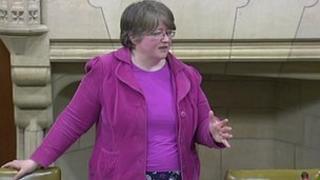 NHS England has turned its back on elderly people in parts of this region, according to Suffolk MP, Therese Coffey.
She says that even though we have some of the country's highest numbers of elderly people, it is not always reflected in the money given to local NHS trusts.
"An increasingly elderly population brings NHS challenges in terms of more complex needs," argued Dr Coffey.
"The new funding formula effectively decreased the proportion going to elderly patients and that was wrong in principle."
Dr Coffey called the debate in Westminster Hall over the funding allocation for Clinical Commissioning Groups.
She told MPs that some patients in her Suffolk Coastal constituency faced 200-mile round trips for cardiac check-ups.
'Bottled it'
According to figures obtained in a Parliamentary Question by one of our MPs, North Norfolk's GPs have the highest proportion of patients aged over 65 in England. Despite 27% of their patients being pensioners, Norfolk's NHS funding for this year is £1228 per person, ranking the county 49th in England.
By comparison, funding per head in Knowsley on Merseyside is £1489, the highest in England; yet only 15% of its patients are aged over 65.
Dr Coffey complained that NHS England had had a unique opportunity to tackle unfairness and they had "bottled it" but Dr Dan Poulter and neighbouring Suffolk MP, answering for the government, disagreed.
Funding increase
"The formula is putting this much more on the trajectory of travel that she would wish," he replied.
He said it was now taking into account age, gender and indications of how healthy people were. The information is now taken from GP lists, which, he said, was better than basing it on figures from the 10-year census.
"The government has been able to ensure a real terms increase in funding until 2015, which will be £15bn higher in cash terms than in 2010," he said.
He added that Suffolk did well out of the funding formula, which was independently set. "I believe this formula will put us in a strong position to meet the needs of elderly people."
No assurance there that funding for the elderly will change but nor was the idea that an ageing population requires more health care completely rebuffed.