Devon and Cornwall's solar capacity 'up 13,000% over four years'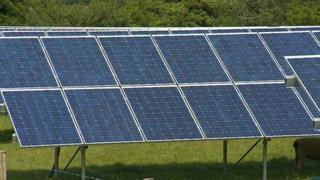 There has been a big increase in the amount of electricity that can be produced by solar installations in Devon and Cornwall.
Regen South West estimates solar energy can power the equivalent of more than 100,000 homes, up from 890 in 2011.
Experts believe it is fuelled by the government's feed-in tariff that allows people to be paid for generated power.
But concerns have also been raised that Britain's ageing electrical grid has limited capacity for renewable energy.
The south-west of England has the highest levels of solar energy from the sun in the UK.
One megawatt (MW) of solar power is equivalent to the domestic energy consumption of about 200 households.
Regen South West - a not-for-profit sustainable energy expert - said solar installations in Devon and Cornwall meant the counties had a capacity of about 325MW last year - 245MW more than the previous year's total of 80MW.
However, the rapid growth has angered campaigners who are unhappy about green fields and agricultural land being used for solar farms.
The Campaign to Protect Rural England said large solar farms were "industrialising" the countryside.
Johnny Gowdy, of Regen South West, said the placing of installations does have to be considered.
"The growth on prime agricultural land and in areas of outstanding natural beauty is going to be an issue," he told BBC Spotlight's environment correspondent Adrian Campbell.
"But it's worth saying that's the minority of projects - the vast majority are actually located on rooftops and brown-field sites."
The government has said photovoltaic (solar) power was a key element in reaching its 2020 renewable energy targets.
Last year, the Department for Energy and Climate Change (DECC) called for an eight-fold increase in solar power over the next seven years.