Jane Austen Literacy Foundation launched by author's relative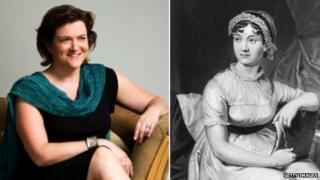 A foundation to champion literacy projects is being created by a relative of author Jane Austen.
Caroline Jane Knight, the last of the Austen family to be born and raised in Chawton, Hampshire, is launching the Jane Austen Literacy Foundation.
She said she was "delighted" to establish a foundation "in her honour", and will give its first ever address at the Holywell Music Room, Oxford.
The Pride and Prejudice author is Ms Knight's fifth great-aunt.
The launch is in collaboration with the World Literacy Summit 2014.
Ms Knight said: "I am so proud of my great-aunt Jane and her enduring legacy... partnering with the World Literacy Summit 2014 gives me the ideal platform to raise awareness to support literacy projects close to my heart."The foundation will raise money to promote literacy around the world.
David Perrin, chief executive officer of the summit, described Ms Knight as "an engaging, articulate and witty communicator" and said they were delighted she had "chosen to deliver her inaugural address alongside the summit".
The address takes place at the concert hall on 16 April.
The summit, which will be based in the surroundings of the university, aims to "explore the key issues impacting literacy around the world".